A Perfect Wedding Day at Fusion Beach Villas, Puerto Rico
I fell in love with Jenny and Matt's adventurous souls at the beginning of our wedding planning journey together, when we met for the first time during their trip to Puerto Rico for their epic underwater engagement session. We had a lot of fun jumping in and out of the cold spring waters, and it built a strong foundation for what our work together would be at their picture-perfect wedding at Fusion Beach Villas.
Wedding day at Fusion Beach Villas, Isabela
New favorite wedding venue alert! Fusion Beach Villas is a boutique waterfront hotel on the northwestern coast of Puerto Rico. Located between Shacks and Jobos beaches, the coast is gorgeous, sandy, and a bit rough... perfect for portraits. Its terrace is ideal for hosting micro weddings, and it has a romantic natural path between the forest that leads to the glorious, sandy beach in all its raw glory. The venue is also the home of Fusion Floral art, one of the most talented wedding floral vendors in Puerto Rico.
Fusion Beach Villas is a perfect wedding venue for microweddings, wedding ceremonies without a formal reception, and the perfect place to stay and celebrate a laid-back beach elopement. The beach and nature around the property is so perfect, you don't have to drive anywhere. It is walking distance to a great bar and beach restaurant scene of Isabela, so it makes perfect sense for a no-frills romantic getaway.
Laid-back Beach destination wedding
This laid-back, bohemian setting was the perfect place for Jenny and Matt to tie the knot, surrounded by just their VIPs. My wedding day with them started at Jenny's room, where she was getting her final touches of hair and makeup, so I started gathering the details while she got dressed.
Then I moved downstairs to meet Matt, he was ready for his pictures, and we went outside to his balcony, as the weather was so warm and the light so perfect.
I wandered around and noticed the table setup was ready on the terrace: tropical greens, gold decor with glassware, and raspberry accents that complemented perfectly the bridal bouquet upstairs made with proteas, eucalyptus, and orchids. I kept walking across the path and was stunned by the minimalistic ceremony decor by a giant dune. The rough wave spray reflected the golden rays of the afternoon sun. I was in heaven!
Wedding day traditions and special rituals
During the ceremony, the lovebirds exchanged vows and read poems that talked about their shared love for adventures and the ocean as they embarked on their biggest adventure yet: marriage. There was also a ritual where they involved everyone present, passing the rings around so everyone could bestow their blessings for the couple.
Jenny and Matt didn't hold a formal reception, but there was space for toasts where many guests stood up to declare their love and best wishes to the couple. Then, while they waited for dinner, they pinned traditional Puertorican capias to each of their guests. Capias are old-school souvenirs made of ribbons that represent the couple's gratitude.
The couple didn't have a sweetheart table; instead, they joined the rest of their guests in a family-style dinner, chatting and just enjoying the warm night celebrating love.
Such a lovely, perfect day!
xo,
Cami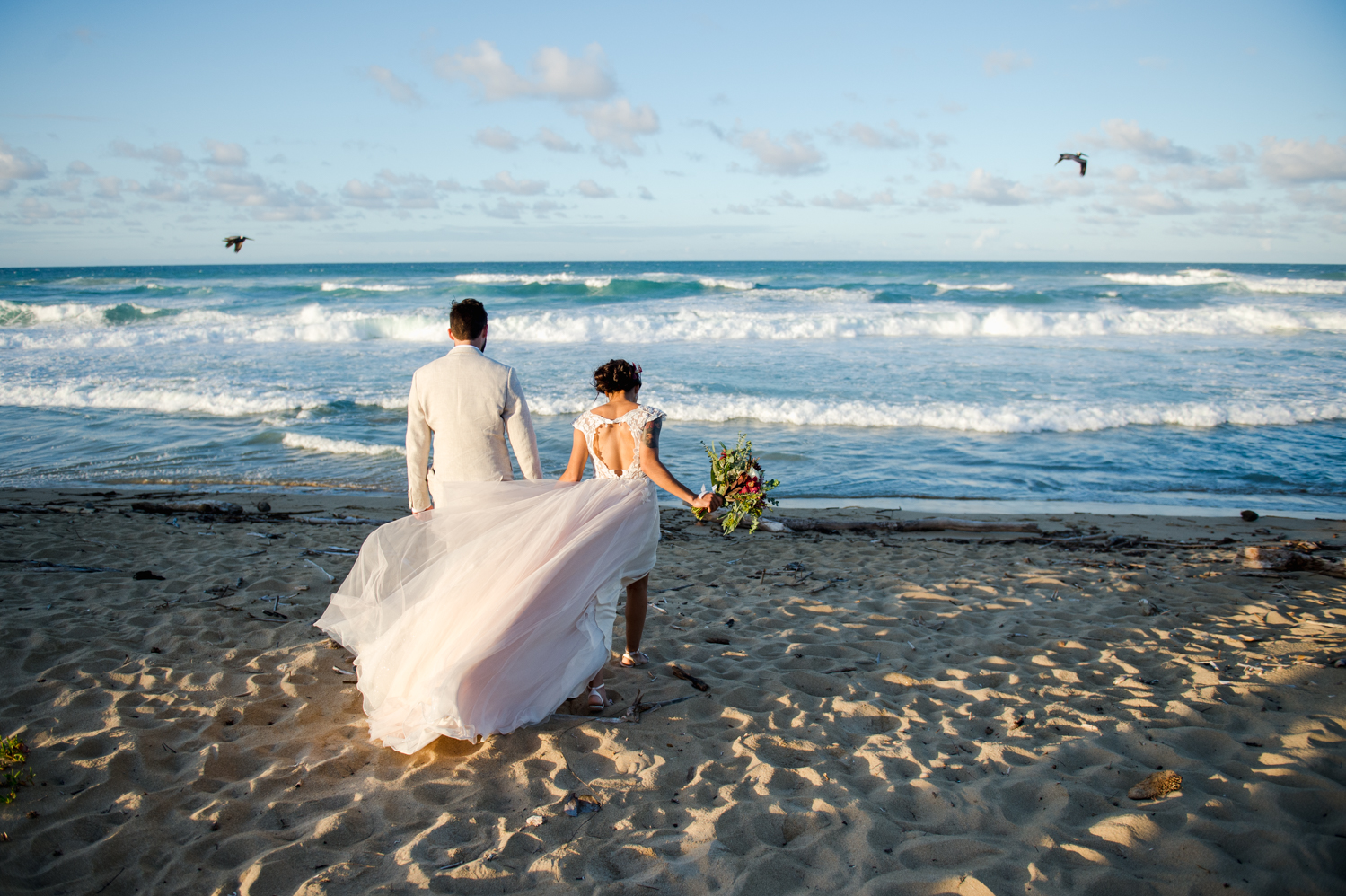 This event's
Puerto Rico Wedding Vendors
Wedding Venue: Fusion Beach Villas, Isabela PR
Photography: Camille Fontz
Decor: Fusion Floral ART
Hair and Makeup: Roc Makeup
Officiant: Tim Blackford from Peace Love Weddings
Live Violin Music: Tempo De Violines,  Raisa López
Comments
comments